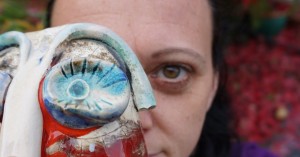 About the imaginative art
Or – which style of art do I represent?
I get asked a lot about my style of art. According to some laymen, my work seems to resemble the one of the acquainted artist Friedensreich Hundertwasser. That would be a little too simple, though. I do not consider myself a student of that Austrian master, but rather as a representative of imaginative art. By the way – I earned my degree as a qualified artist at the Moscow academy of textile, as you can see from my biography page.
Through the art of imagination I use my personal power of imagination to imagine certain objects, locations and people and to connect them with a certain feeling. My art handicraft allows me to transfer this out of imagination into reality. My pictures are akin to visions or fantasy images that we all generate inside of us time and again – more unconscious than conscious.
I get contacted by several clients consistently, asking for a specific individual feeling or sentiment unfolded in a picture or pottery, constructed by me and preserved for posterity. That is because not everyone is capable of converting their inner thoughts and feelings into a picture or sculpture. It is a task I am always delighted to relieve from my clients. In order to properly commit the imagination of my clients' feelings to paper, I have to learn the way you think.
Imagination and its positive impact on invalids
Pictures from my stylistic direction in arts affect people's soul. That is why it's no surprise this art movement is deployed for therapeutic purposes in psychotherapy and medicine.
May I give you an example from my experience: I was asked to paint a certain imagination as a textile picture based on the German folk song written in Colognian language "Rut sin de ruse" (=engl. roses are red). You can find that picture in my gallery of textile pictures, right at the top of page two. This piece was needed for an exhibition in the puppet theatre in Astrachen, Russia. Since I am not familiar with the accent spoken in Cologne, I asked an acquaintance to translate the meaning of this song to me. After the event I showed my creation to my acquaintance and he was instantly affected by the positive emanation of the picture. He wanted to purchase it as a Christmas present for his wife who suffers from cancer. I frequently receive response from this family concerning the power this picture conveys into both of their lives. They also acknowledge that friends and relatives recognize new details every time they face up to it.
This is just one example of how my art functions in real life and how it is perceived by the people.